I have received some requests for help from some users, as regards the import photos from smartphone to Aperture3. Nothing could be simpler, let's see how!
The process is exactly the same that we use to import pictures from our cameras, namely:

- First connect our smartphone via USB cable included with the phone. Immediately, just as for digital SLR cameras, Aperture will report the new content in image format and video format (files must of course be compatible with the software, if upgrading to the latest version available, see our page dedicated to Aperture 3).

- The window on the import is showing the following information: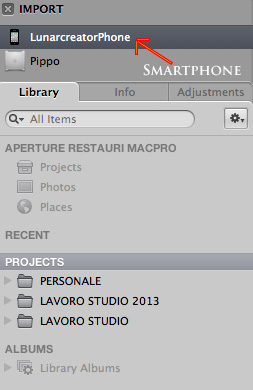 First thing in the top left part called "import" you can view the device connected to your Mac and ready to be selected.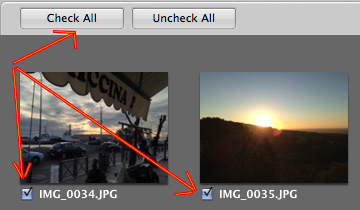 At the center of all the photos will appear in your archive into your smartphone. The photos can be individually selected by simply running a check on the box located next to the file name. Alternatively you can click on the button "check all" to select all of the archive or "uncheck all" if, on the contrary, you want to deselect.

Right, finally, there will be a menu where you can select in order:

A) The destination of our photos, preset "new project"

B) The name of the project, in this case "photo smartphone"

C) How do you want to rename the files, the original name given by phone or with a custom

D) Which type of metadata you want to include, in this case keywords & Copyright

E) Two spaces indicate where the keywords for our pictures and the words to the Copyright

- Once you have made all the necessary changes, just do a click on "Import checked" and will download in the Aperture library indicated all the photos of your smartphone. Nothing could be easier!

Now it's up to you and your imagination to create and edit all real works of art, good job!