- ITA -
Nasce ad ottobre 2013 questa fotocamera mirrorless della serie X, parliamo della Fujifilm X-A1.
Ciò che la società vuole proporre è una macchina più economica delle altre, di qualità elevata e ad ottiche intercambiabili.
Per fare ciò, naturalmente si è dovuto rinunciare a qualcosa come ad esempio al Sensore X-Trans Mos delle sue sorelle. Questa Fujifilm X-A1, infatti, monta un APS-C CMOS da 16.3 Mpx di dimensioni 23.6mm x 15.6mm.
Il corpo e essenzialmente identico alla Fujifilm X-M1, dunque molto compatta, piccola, flash incorporato, software e funzioni caratteristiche di questa serie.
La ghiera per il controllo delle modalità, quella relativa alla compensazione dell'esposizione si trovano proprio vicino al pulsante di scatto per una veloce selezione.
Altra caratteristica importante è il tasto di personalizzazione, per una funzione a vostro piacimento, "fn" e la possibilità di selezionare la comunicazione wifi per il download veloce delle immagini sui vostri dispositivi o computers.
Infine, pulsante per l'avvio immediato di ripresa video in HD.
Vediamo le altre caratteristiche:
- Supporta memorie SD, SDHC, SDXC (UHS-I).
- Formato files raw e jpeg.
- Sensibilità ISO da 100 a 6.400 espandibile fino a 25.600 .
- Attacco per ottiche serie X.
- Scatto continuo fino a 5.6 fps.
- TFT monitor LCD a colori da 3 pollici orientabile.
- Registrazione video a 920 x 1080 30p.
- Uscite USB 2.0 High-Speed ed HDMI.
- Dimensioni 116.9mm x 66.5mm x 39.0mm
- Peso circa 330g
- Prezzo circa 549 euro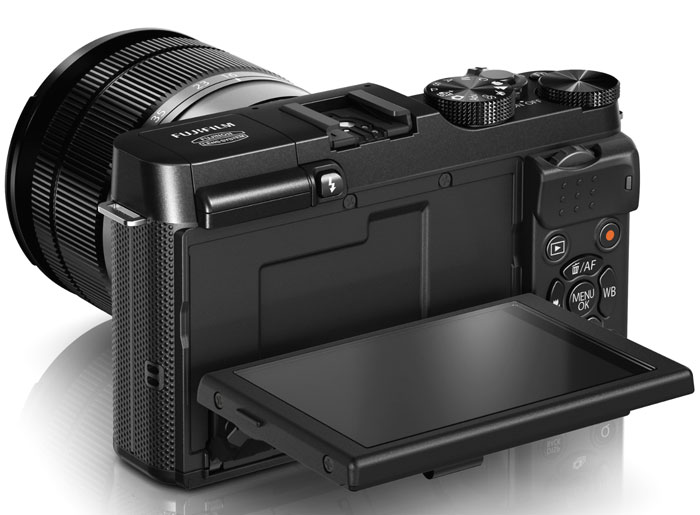 (All images are the property of Fujifilm)


- ENG -
He was born in October 2013, this mirrorless camera of the X series , we talk about the Fujifilm X -A1 .
What the company wants to offer you a car cheaper than the others, high quality and interchangeable lenses.


To do this , of course we had to give up something such as the X -Trans sensor Mos of his sisters .
This Fujifilm X -A1 , in fact, is equipped with a CMOS APS- C sized 16.3 megapixel 23.6mm x 15.6mm .


The body is essentially identical to the Fujifilm X -M1, therefore, very compact , small , built-in flash , software functions and features of this series .


The dial to control mode , the exposure compensation can be found right next to the shutter release button for quick selection .


Another important feature is the keyboard customization , for a function at your leisure, "fn " and the possibility to select the communication wifi for faster download of images on your devices or computers.


Finally , button for an immediate start shooting HD video.


Let's see the other features :


- Supports SD cards , SDHC , SDXC ( UHS -I).


- Raw and jpeg format files .


- ISO sensitivity from 100 to 6400 expandable to 25,600 .


- Connection for optical series X.


- Continuous shooting up to 5.6 fps.


- TFT color LCD monitor 3-inch swivel .


- Video recording at 920 x 1080 30p .


- Exit USB 2.0 High-Speed ​​and HDMI .


- Dimensions 116.9mm x 66.5mm x 39.0mm


- Weight about 330g


- Price about 549 €