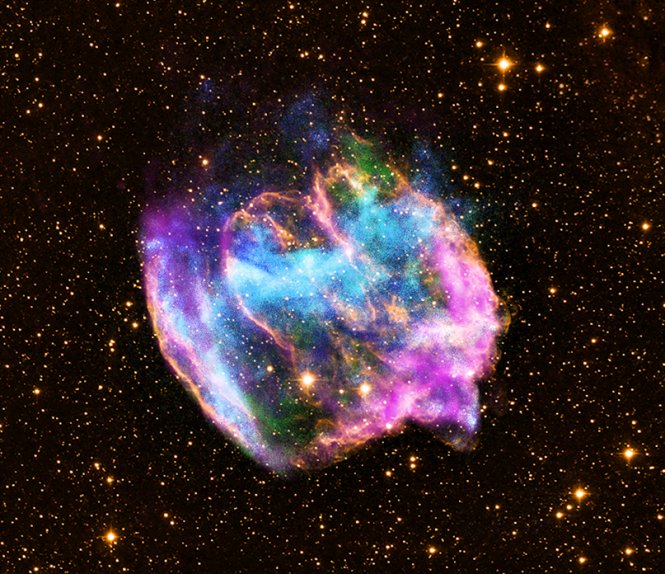 (Immagine del Massachusetts Institute of Technology )
-ITA-
Combinando varie immagini e rilevazioni ottenute nelle bande dell'X, dell'infrarosso e del radio, il Massachusetts Institute of Technology ipotizza un immenso buco nero vecchio di mille anni all'interno di una splendida supernova.
Questa sensazionale scoperta, del team guidato dalla astrofisica Laura Lopez, porterebbe alla possibilità di studiare un black hole a due passi da noi, permettendoci di osservare ciò che prima era possibile solo ipotizzare.
W49B, questo è il nome della immensa supernova distante da noi appena, si fa per dire, 26 mila anni luce. Una esplosione avvenuta in maniera anomala, questo perchè solitamente per stelle aventi massa superiore a 3 volte quella del sole si ha una distribuzione simmetrica introno al punto d'origine. Cosa che in questo caso non è avvenuta.
La scoperta è sensazionale perchè, all'interno di tale esplosione solitamente ci si aspetta di trovare una stella di neutroni mentre al contrario il satellite Chandra non ha rilevato nulla che possa far pensare a qualcosa di simile. Dunque, al contrario, all'interno dovrebbe trovarsi proprio un buco nero in fase di crescita!
Le immagini sono state ottenute tramite il telescopio spaziale Chandra della NASA, sensibile ai fotoni X, il Palomar Observatory del Caltech per i fotoni infrarossi e il Very Large Array per quelli radio.


-ENG-
Combining multiple images and measurements obtained in the X-band, infrared and radio, the Massachusetts Institute of Technology suggests an immense black hole a thousand years old in a beautiful supernova.
This sensational discovery, the team led by astrophysicist Laura Lopez, lead to the possibility of studying a black hole around the corner from us, allowing us to observe what was previously possible only speculate.
W49B, this is the name of the immense supernova distant from us soon, so to speak, 26 thousand light years. An explosion occurred in an unusual way, because this usually for stars with mass greater than 3 times that of the sun there is a symmetrical distribution of introns to point of origin. Which in this case has not occurred.
The finding is striking because, in such an explosion normally expect to find a neutron star while on the contrary the Chandra did not detect anything that might make you think of something like that. So, on the contrary, should be right inside a black hole growing!
The images were obtained by NASA's Chandra space telescope, sensitive to photons X, the Palomar Observatory at Caltech for infrared photons and the Very Large Array radio for those.