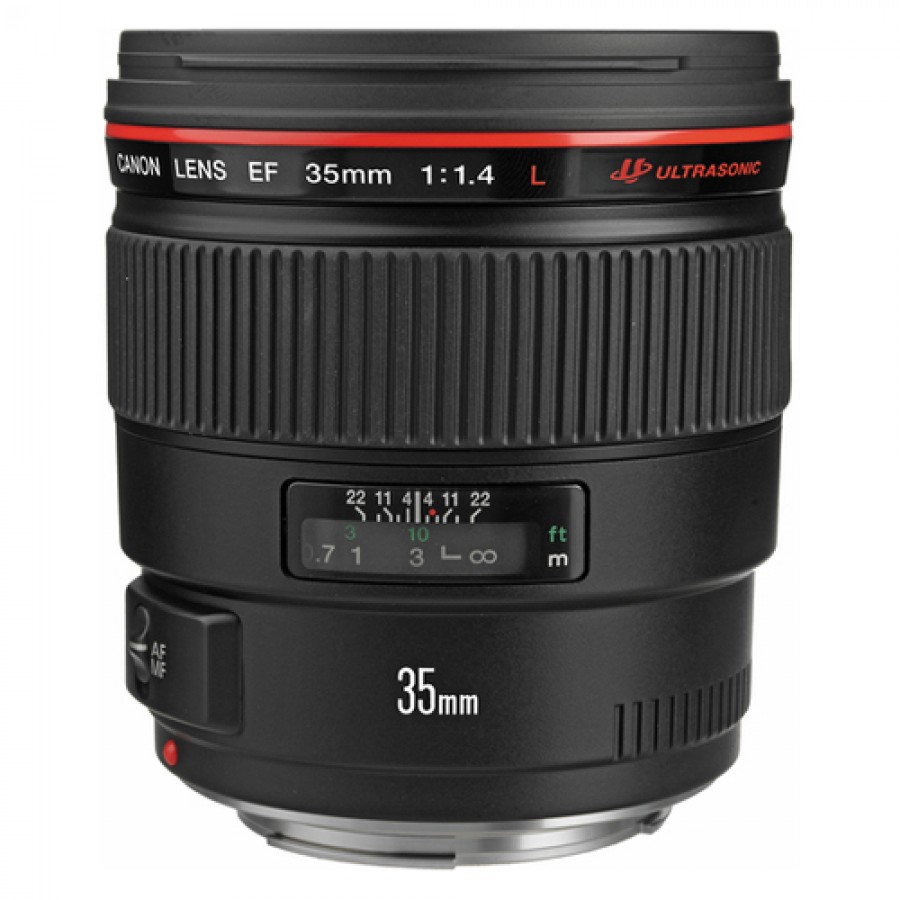 (Immagine proprietà Canon)
- ITA -
Il Canon EF 35mm f/1.4L USM è un'ottimo obiettivo professionale, particolarmente adatto alla street photography ed alla ritrattistica.
Oltre alla struttura molto solida e di ottima manifattura, tipica degli obiettivi serie Luxury di Canon, questo 35mm promette immagini di altissima qualità e nitidezza.
La luminosità è caratterizzata da 8 lamelle nel diaframma con una splendida apertura fino a f/1.4 , garanzia di portabilità in ogni occasione, dalla più difficile alla più comoda.
Ottimo anche l'effetto sfocato risultante in particolar modo durante sessioni di fotografia ritrattistica con una capacità di messa a fuoco immediata e molto accurata.
Vediamo le sue caratteristiche principali:
- 11 elementi in 9 gruppi
- apertura minima F/22
- Angolo di campo in diagonale di 63°
- Non è un obiettivo tropicalizzato
- Paraluce EW-78C
- Diametro del filtro 72mm
- distanza minima di messa a fuoco 0.3 m
- Peso 580g
- Prezzo circa 1.500,00 euro


- ENG -
The Canon EF 35mm f/1.4L USM lens is an excellent professional, particularly suitable for street photography and portraiture.
In addition to the very strong structure and excellent workmanship, typical of the objectives set Luxury Canon 35mm that promises the highest picture quality and sharpness.
The brightness is characterized by 8 blades in the diaphragm with a wonderful opening to f/1.4, guarantee portability for every occasion, from the easiest to the most difficult.
Also excellent blur effect resulting especially during sessions of portrait photography with an ability to focus immediate and very accurate.
We see its main features:
- 11 elements in 9 groups
- Minimum aperture f/22
- Diagonal Angle of View 63 °
- It is not a weather sealed lens
- Lens hood EW-78C
- Filter diameter 72mm
- Minimum focus distance 0.3 m
- Weight 580g
- Price about € 1,500.00