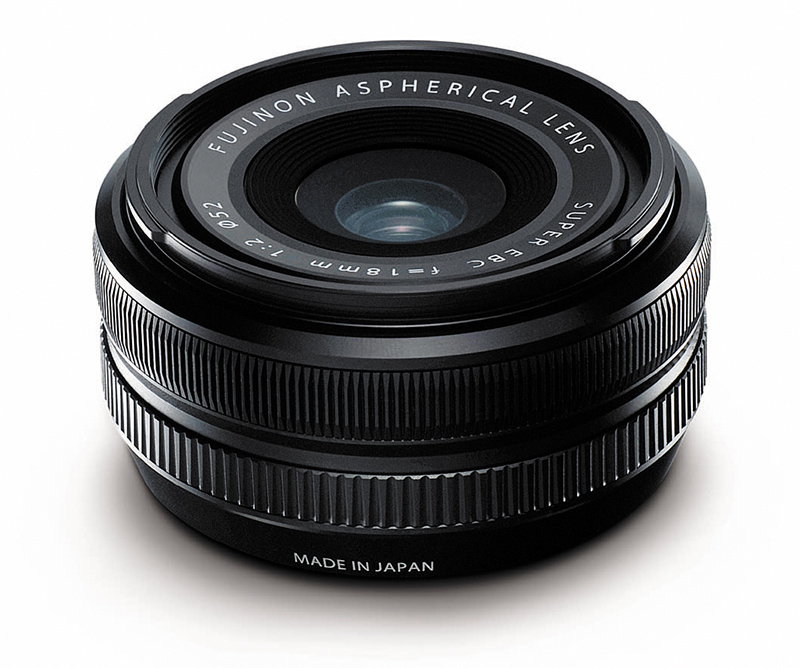 (Immagine proprietà Fujifilm)
- ITA -
Primo obiettivo pancake della serie Fujinon XF, questo 18 mm è un'ottimo compagno di viaggio capace di immortalare paesaggi e momenti di vita quotidiana con una luminosità elevata.
Misura 4 cm di lunghezza ed ha un peso di soli 116 grammi, questo vuol dire che può essere utilizzato benissimo come obiettivo di base e magari, a seconda dell'utilizzo, non più rimosso dalla fotocamera.
La lente ha un'angolo di campo equivalente ad un 27 mm su di un corpo da 35 mm. Questo perchè bisogna considerare il fattore di conversione proprio delle fotocamere della serie X con sensore APS-C.
Montatura molto solida in metallo, così come il paraluce, danno una sensazione qualitativa molto alta.
La velocità di messa a fuoco è molto buona, la distorsione del barilotto è molto contenuta, pari a circa 1,5 %, mentre la vignettatura è molto controllata e dunque trascurabile.
La definizione di questa lente è ottima alla massima apertura mentre rimane più morbida ad aperture inferiori.
Vediamo dunque le caratteristiche principali:
- 8 elementi in 7 gruppi con 2 asferici
- Formato equivalente 27 mm
- Minima apertura f/2
- Massima apertura f/16
- 19 intervalli da 1/3 EV
- Minima distanza di messa a fuoco 18 cm
- Dimensioni 64.5mm x 40.6mm
- Peso 116 g
- Filtro da 52 mm
- Costo circa 550 euro


- ENG -
First pancake lens series Fujinon XF 18mm this is an excellent travel companion capable of capturing landscapes and moments of everyday life with high brightness.
Measure 4 inches long and weighs just 116 grams, this means that it can be used very well as a basic goal and maybe, depending on use, no longer removed from the camera.
The lens has an angle of view equivalent to a 27 mm on a body by 35 mm. This is because you have to consider the conversion factor of their X-series cameras with APS-C sensor.
Frame very solid metal, as well as the hood, give a qualitative feeling very high.
The speed of the focus is very good, the barrel distortion is very low, amounting to about 1.5%, while the vignetting is very controlled and therefore negligible.
The definition of this lens is great at the maximum opening while it remains softer at lower openings.
Let's see the main features:
- 8 elements in 7 groups with 2 aspherical
- 27 mm format equivalent
- Minimum aperture f / 2
- Maximum aperture f / 16
- 19 intervals of 1/3 EV
- Minimum focus distance of 18 cm
- Dimensions 64.5mm x 40.6mm
- Weight 116 g
- Filter 52mm
- Cost about 550 €