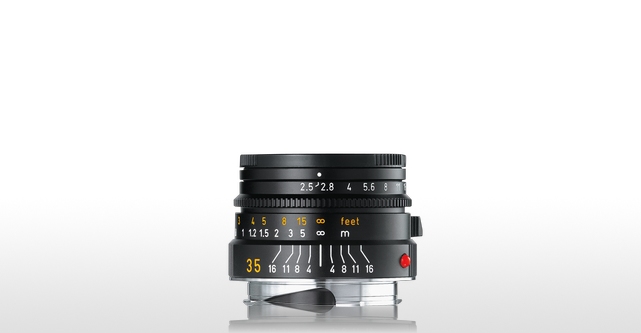 (Immagine proprietà Leica)
- ITA -
LEICA Summarit 35 mm f/2.5, obiettivo tuttofare di qualità e di definizione estrema, un vero gioiello di tecnica e tecnologia.
Manegevolezza, peso e grandezza molto contenuta sono sicuramente fattori determinanti per dire che questa lente, è una componente fondamentale, per scatti veloci, discreti ma con il massimo della risoluzione.
Con Leica M8 si avrà la possibilità di ottenere immagini ad una focale equivalente di circa 50mm, permettendo, così, anche la possibilità di eseguire ritratti di grande effetto.
All'interno del barilotto si trovano 6 lenti suddivise in 4 gruppi, inoltre l'apertura massima per il diaframma sarà di f/2.5 mentre quella minima di f/16.
Con un filtro Uv/Ir di tipo E39 sia con Leica M8 che con ogni tipo di modello M, si avrà il massimo della definizione grazie al blocco di ogni tipo di interferenza, causa di aberrazioni cromatiche o effetti lens flare.
L'angolo di visualizzazione in diagonale, orizzontale e verticale sarà:
Leica pieno formato con sensore 24 x 36mm : 63 °, 54 °, 38 °
Leica M8 con sensore 18 x 27 mm : 50 °, 42 °, 29 °
Come abbiamo già detto il peso di 220 g ed una lunghezza di 33.9mm lo rendono estremamente comodo e facile da usare.
Vignettatura completamente assente e distorsione molto limitata e difficile da percepire, in particolar modo se vi occupate di fotografia street, completano il quadro di questo splendido strumento.
Per ulteriori info: Leica Summarit 35mm f/2.5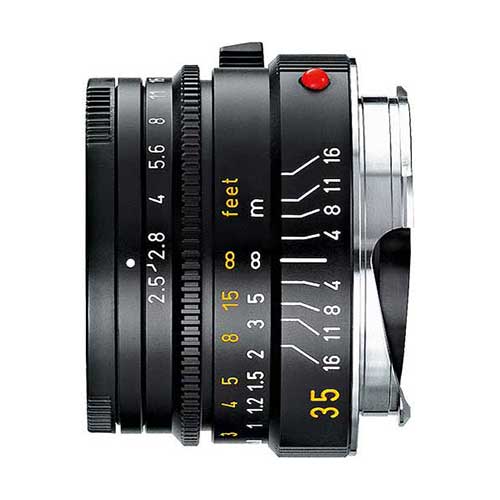 (Immagine proprietà Leica)


- ENG -
Leica Summarit 35mm f/2.5, handyman goal of quality and extreme definition, a true jewel of technique and technology.
Ease of handling, weight and size factors are certainly very low to say that this lens is a key component for quick bursts, but with discrete maximum resolution.
Leica M8 you have the ability to obtain images at a focal length equivalent of about 50mm, thus allowing the possibility to take portraits with great effect.
Inside the barrel are 6 lenses divided into 4 groups, in addition to the maximum opening of the aperture will be f/2.5 to f/16 while the minimum.
With a UV / IR filter type E39 with both Leica M8 with any type of model M, it will have the maximum of the definition thanks to the block of each type of interference, due to chromatic aberrations or lens flare effects.
The viewing angle of diagonal, horizontal and vertical will be:
Leica full-frame 24 x 36mm sensor with 63 °, 54 °, 38 °
Leica M8 sensor with 18 x 27 mm 50 °, 42 °, 29 °
As we have already mentioned the weight of 220 g and a length of 33.9mm makes it extremely convenient and easy to use.
Vignetting and distortion completely absent very limited and difficult to see, especially if you deal with street photography, complete the picture of this beautiful instrument.
For more info:
Leica Summarit 35mm f/2.5

(Image Leica cameras)


Orari: lun - ven 10:00 - 18:00 , sab 10:00 - 13:00 su appuntamento.