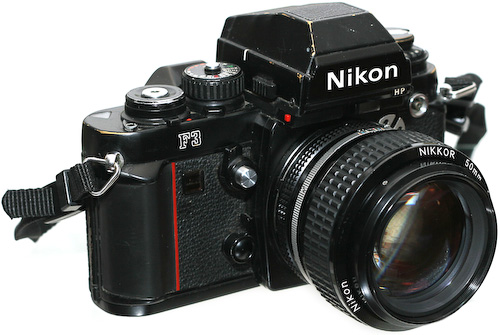 - ITA -
La Nikon F3, datata 1980, è sicuramente una macchina storica che copre un ruolo fondamentale nell'evoluzione del marchio giapponese.
Questa fotocamera è stata la prima ad adottare un esposimetro proprio sul corpo macchina, è inoltre all'avanguardia per quanto riguarda l'esposizione automatica a priorità di diaframma.
Disegnata da Giugiaro, ha la possibilità di visionare i dati tramite dispaly LCD illuminabile.
E' stata progettata con un mirino che permette la visione dell'immagine al 100%, successivamente riammodernato con uno di nuova concezione, l' F3Hp, il quale garantisce una visone anche a 25 mm dall'oculare.
Il set per questa reflex vanta 5 mirini intercambiabili, 22 schermi di messa a fuoco e svariati obiettivi Nikkor.
Vediamo le sue caratteristiche principali:
- Fotocamera 24 x 36 mm
- Esposizione automatica a priorità di diaframmi
- Mirino intercambiabile
- Esposimetro TTL
- Esposizione da 8 sec a 1/2000 di sec
- Asa da 12 a 6400
- Otturatore sul piano focale in titanio
- Sincronizzazione per motori MD-4
- Peso 700 gr


- ENG -
The Nikon F3, dated 1980, is definitely a car that covers a historic role in the evolution of the Japanese brand.
This camera was the first to take a light meter right on the camera body, it is also at the forefront of auto exposure aperture priority.
Designed by Giugiaro, has the ability to view data via the LCD display illuminated.
E 'was designed with a viewfinder that allows the vision of the image at 100%, subsequently refurbished with a new concept, the' F3HP, which guarantees a mink even at 25 mm from the eyepiece.
The set for this reflex has 5 interchangeable viewfinders, focusing screens 22 and various Nikkor lenses.
We see its main features:
Camera - 24 x 36 mm
- Auto exposure Aperture Priority
- Viewfinder Interchangeable
- Exposure TTL
- Exposure 8 sec to 1/2000 sec
- Asa from 12 to 6400
- Focal-plane shutter titanium
- Synchronization engine MD-4
- Weight 700 gr