(Olympus images property)
- ITA -
Olympus E-620: la casa la nomina come la reflex più piccola e leggera al mondo!
Sarà vero? Molta è la concorrenza e certo anche Canon con la sua 100D, ha fatto del suo meglio per migliorare e alleggerire il suo corpo macchina. Vediamo, però, le caratteristiche di questa fotocamera:
- Sicuramente il cuore è rappresentato dal suo sensore Live Mos da 12.3 Mpx in versione 4/3 hi speed, con filtro dei colori primari e dimensioni pari a 17.3 x 13.0 mm.
- Elaborazione delle immagini affidate a un processore TruePic III+
- Sistema di messa a fuoco TTL e rilevamento del contrasto
- Naturalmente non può mancare la stabilizzazione dell'immagine tramite movimento del sensore con attivazione bi-direzionale o mono-direzionale.
- L'otturatore è sul piano focale ed i tempi di posa possono andare da 1/4000 fino a 60 sec, con una posa bulb fino a 30 minuti.
- Mirino di tipo ottico con il 95% del campo inquadrato
- Sensibilità ISO da 100 a 3200 con scatti a raffica, in alta risoluzione, di circa 4fps
- Monitor LCD HyperCrystal III da 230000 punti e 2.7"
- Flash integrato e modalità wireless
- Dimensioni 130.0 x 94.0 x 60.0 mm
- Peso 475g solo corpo


- ENG -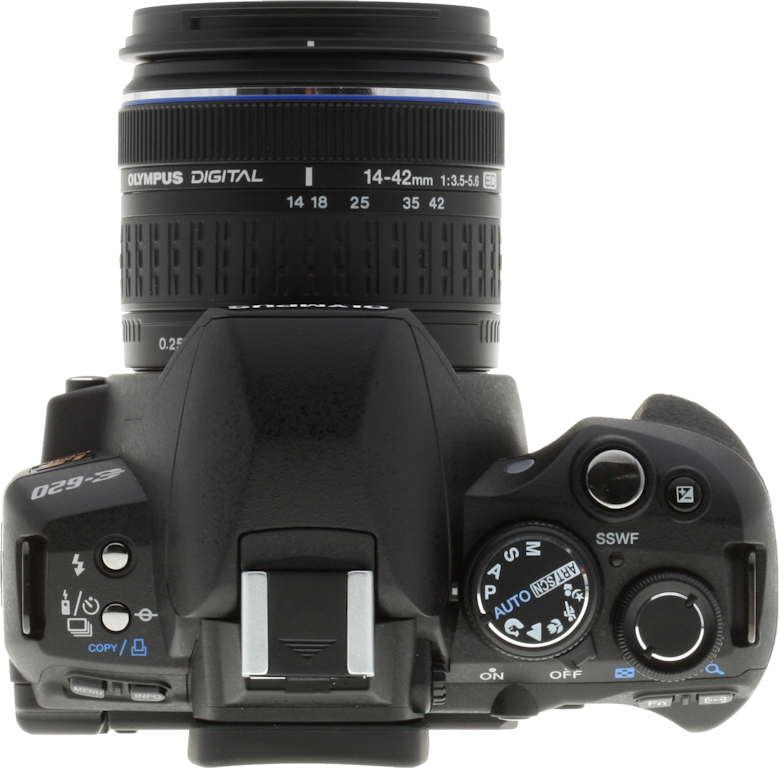 (Olympus images property)

Olympus E -620 : the home of the appointment as the camera 's smallest and lightest in the world!
Is it true?
Much is certain competition and also with his Canon 100D , did his best to improve and lighten your camera body.
We see , however, the features of this camera :


- Surely the heart is represented by its 12.3 -megapixel Live MOS sensor in version 4/3 hi speed , with primary color filter and a size of 17.3 x 13.0 mm .


- Image processing handled by a TruePic III +


- System Focus TTL contrast detection


- Of course you can not miss the image stabilization motion sensor activation with bi- directional or mono -directional .


- The shutter is on the focal plane and the exposure times can range from 1/4000 up to 60 sec , with a pose bulb up to 30 minutes .


- Optical viewfinder with 95 % field of view


- ISO sensitivity from 100 to 3200 with Burst , high resolution , about 4fps


- HyperCrystal III LCD Monitor 230000 points and 2.7 "


- Built-in flash and wireless


- Dimensions 130.0 x 94.0 x 60.0 mm


- Weight 475g body only