- ITA -
Questa Pentax K5 II è un vero gioiellino di tecnologia, ha caratteristiche molto interessanti, vediamole insieme.
- Prima di tutto il suo nuovo modulo autofocus chiamato SAFOX X AF. Combinato con lenti veloci, promette focheggiamenti molto veloci, inoltre è capace di seguire il soggetto molto bene, se improvvisamente da stato di quiete, inizia a muoversi.
- Il sensore da 16,28 Mpx effettivi ha prestazioni eccellenti grazie anche alle sue dimensioni 3,7 mm x 15,7 mm. In coppia con il nuovo processore PRIME (Pentax Real Image Engine), è possibile ottenere immagini molto definite, con un contrasto elevato e colori molto gradevoli.
- Il corpo è in lega di magnesio ed il telaio in acciaio inox. E' a prova di polvere, di agenti atmosferici come vento, acqua ed ogni tipo di temperatura. Pentax assicura il funzionamento fino a -10°C.
Vediamo in dettaglio le sue caratteristiche principali:
- Sensore Cmos 16,28 Mpx effettivi con filtro colori primari
- Sensibilità ISO da 100 a 12800 espandibile fino a 51200
- Sistema autofocus SAFOX X
- Sistema di stabilizzazione dell'immagine interno al corpo macchina
- Meccanismo di pulizia del sensore dalla polvere
- Supporto lenti con attacco a baionetta PENTAX KAF2
- Mirino pentaprisma con angolo di campo approssimativo del 100%
- Schermo da 3" TFT LCD a colori
- Velocità di scatto da 1/8000 a 30 sec oltre alla modalità bulb con intervalli da 1/3 o 1/2 EV
- Flash incorporato
- Filmati HD fino a 1960 x 1080, 25 fps
- Schede compatibili SD e SDHC
- Interfacce Mini-HDMI e USB 2.0 mini-B
- Dimensioni 97 x 131 x 72,5 mm
- Peso 680 gr solo corpo
- Prezzo circa 800,00 euro


- ENG -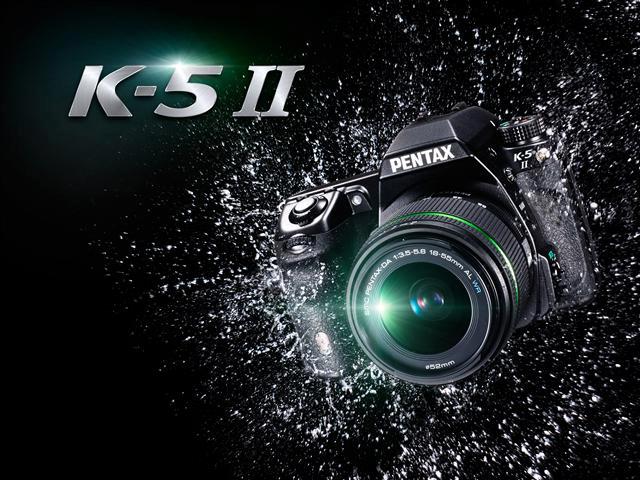 (Imm. property Pentax Ricoh)
This Pentax K5 II is a real gem of technology, has some very interesting features let's see them together.
- First of all its new autofocus module called SAFOX X AF. Combined with fast lenses, promises to perform focheggiamenti very fast, it is also able to follow the subject very well, if you suddenly from a state of rest, begins to move.
- The 16.28 megapixel effective sensor has excellent performance, thanks to its size 3.7 mm x 15.7 mm. Paired with the new processor PRIME (Pentax Real Image Engine), you can get very defined images with high contrast and very nice colors.
- The body is made ​​of magnesium alloy and stainless steel frame. E 'dust-proof, to atmospheric agents such as wind, water, and each type of temperature. Pentax ensures operation down to -10 ° C.
Let's see in detail its main features:
- CMOS sensor with 16.28 effective megapixel primary color filter
- ISO sensitivity from 100 to 12800 expandable up to 51200
- Autofocus System SAFOX X
- Stabilisation system inside the camera body
- Mechanism of cleaning the sensor from dust
- Support lenses with bayonet PENTAX KAF2
- Pentaprism viewfinder with angle of approximately 100%
- Screen 3 "TFT color LCD
- Shutter Speed ​​1/8000 to 30 sec in addition to bulb mode with intervals of 1/3 or 1/2 EV
- Built-in flash
- HD movies up to 1960 x 1080, 25 fps
- Compatible Cards SD and SDHC
- Interfaces Mini-HDMI and USB 2.0 mini-B
- Dimensions 97 x 131 x 72.5 mm
- Weight 680 g Body only
- Price about 800.00 Euros