- ITA -
Pentax presenta questa Q7 rinnovata e dallo stile che ricorda certamente altri tempi. Vediamo le sue carattristiche principali!
Proposta come il modello di punta ed il più prestigioso della serie Q, questa fotocamera è dotata di un sensore molto più grande rispetto alle sue precedenti e cioè un Cmos 1/1,7" da 12,76 Mpx totali.
Un'altra caratteristica importante è il miglioramento dal punto di vista della qualità dell'immagine con una sensibilità ISO che tocca i 12.800 ed un sistema antivibrazione, Shake Reduction, molto utile in particolar modo in fasi in cui il cavalletto non è utilizzabile.
La ghiera rapida chiamata "Quick Dial" è molto utile ad esempio per assegnare e personalizzare la propria Q7 con funzioni del tipo commutazione automatica o manuale della messa a fuoco, attivazione filtri ND e molto altro.
Sicuramente la possibilità di utilizzare un'ottimo schermo LCD da 3 pollici con 460.000 punti non può che far piacere al fotografo evoluto ed utente finale.
Infine la ghiera rapida, posta sulla parte frontale, permette di poter dare una finitura aggiuntiva ai nostri scatti come accentuare i colori, saturazione più alta ed una dominante tonale più forte.
Naturalmente come tutte le macchine del suo tipo, abbiamo ottiche intercambiabili con attacco a baionetta Pentax Q.
Elenchiamo, ora, i punti fondamentali di questa fotocamera:
- Sensore Cmos da 12,76 Mpx totali di dimensioni 1/1,7"
- ISO da 100 a 12800
- Stabilizzazione dell'immagine tramite Shake Reduction, cioè tramite spostamento del sensore
- Sistema di messa a fuoco AF a rilevamento del contrasto
- Mirino ottico da 3 pollici con visione grandangolare
- Possibilità di Live view
- Otturatore elettronico da 1/8000 a 2 secondi
- Filtri digitali e di ripresa
- Filmati Full HD da 1920x1020p
- Memorie compatibili SD, SDHC, SDXC e Eye-Fi
- Flash incorporato ed estraibile
- Dimensioni 58mm x 102mm x 33,5mm
- Peso 200g
- Prezzo circa 500 dollari in kit con zoom Pentax 02 Standard


- ENG -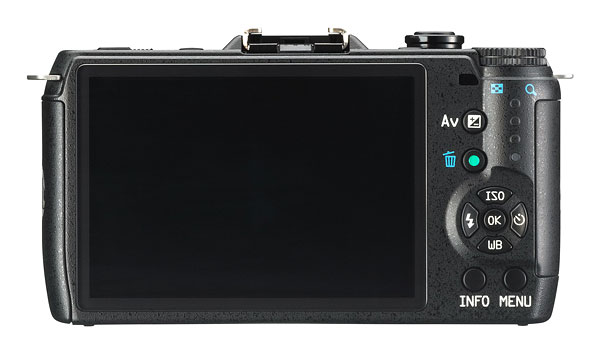 (Image proprety Pentax Ricoh)
Pentax is this renewed Q7 and style that certainly remember other times. We see his main carattristiche!
Proposed as the flagship model and the most prestigious of the Q series, this camera is equipped with a sensor much larger than its previous namely a CMOS 1/1, 7 "by 12.76 Mpx total.
Another important feature is the improvement from the point of view of picture quality with a sensitivity that touches the ISO 12800 and an anti-vibration system, Shake Reduction, very useful especially in the phases in which the stand is not usable.
The quick nut called "Quick Dial" is very useful for example to assign and customize your Q7 with functions such as automatic or manual focus, activation ND filters and much more.
Surely the possibility of using an excellent 3-inch LCD screen with 460,000 dots can not fail to please the photographer evolved and end user.
Finally, the quick nut, located on front side, allows to give an additional finish our shots as accent colors, high saturation and a dominant tonal stronger.
Of course, like all machines of its type, we interchangeable lenses with bayonet Pentax Q.
We list now, the key points of this camera:
- From 12.76 megapixel CMOS sensor Total of size 1/1, 7 "
- ISO 100 to 12800
- Shake Reduction image stabilization, that is, by shifting the sensor
- System of focus with contrast detection AF
- Optical viewfinder 3-inch wide-angle view
- Ability to Live view
- Electronic shutter from 1/8000 to 2 seconds
- Digital filters and intake
- Movies Full HD 1920x1020p
- Memory Card SD, SDHC, SDXC and Eye-Fi
- Built-in flash and removable
- Dimensions 102mm x 58mm x 33.5 mm
- Weight 200g
- Price about $ 500 in a kit with zoom Pentax 02 Standard