- ITA -
Spesso mi viene chiesto cosa vuol dire USM nella dicitura di un obiettivo Canon e a quali particolari caratteristiche fa riferimento, vediamolo insieme!
USM è acronimo di "Ultrasonic motor".
In parole brevi un elemento piezoelettrico all'interno del barilotto emette una vibrazione, quando alimentato da una tensione AC. Essa genera energia ultrasonica.
Ciò permette alle meccaniche di ruotare e di modificare la posizione delle lenti dell'obiettivo.
La risultante è una messa a fuoco molto precisa, a tal punto che in alcuni casi è più veloce dell'occhio umano.
Un'altro particolare è dato dal fatto che tale tecnologia permette di consumare pochissima energia per questo processo ed ha un livello di rumorosità talmente basso che è considerato trascurabile.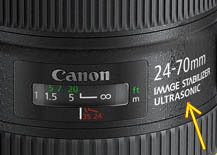 Fonte per ulteriori info: Canon Italia


- ENG -
I am often asked what it's like USM in the words of a Canon lens and special features such as references, let's see it together!

USM is an acronym for "Ultrasonic motor".

In short words a piezoelectric element within the lens barrel emits a vibration, when powered by an AC voltage. It generates ultrasonic energy.

This allows the mechanics to rotate and change the position of the objective lens.

The resultant is a focus very precise, to the point that in some cases is faster of the human eye.

Another particular is the fact that this technology allows to consume very little energy for this process and has a noise level so low that it is considered negligible.