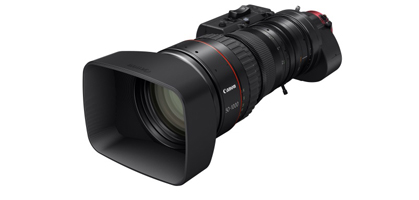 (Canon picture copyright)
- ITA -
Canon lancia il nuovo CN 20x50 e amplifica la sua gamma di obiettivi per la ripresa cinematografica.
La casa giapponese non è famosa, solo, per le sue lenti di altissima qualità dedicate alla fotografia ma anche per una profonda profesionalità nel progettare ed assemblare obiettivi dedicati al video.
Questo è proprio il caso !
Il CN 20x50 incorpora un moltiplicatore di focale 1,5x ed è capace di eseguire riprese a 4K.
In modalità standard si ha una gamma focale di 50-1000mm mentre in modalità ampliata si raggiunge addirittura i 75-1500mm.
Il suo peso è relativamente contenuto, 6.6Kg e le dimensioni, vista l'escursione focale, permettono di trasportare questo obiettivo in maniera facile e veloce.
Altre caratteristiche importanti sono:
- Servo drive rimovibile
- Trasmissioni tv UHD
- Qualità 4K
Per ulteriori info e schede dettagliate del prodotto:


- ENG -
Canon launches new CN 20x50 and amplifies its range of objectives for the filming.
The Japanese are not known, only for its high quality lenses dedicated to photography but also for a deep professionalism in design and assemble objectives dedicated to video.
This is really the case!
The CN 20x50 incorporates a 1.5x teleconverter and is able to shoot with the shooting 4K.
In standard mode it has a focal range of 50-1000mm while in extended mode it even reaches 75-1500mm.
Its weight is relatively low, 6.6kg and size, view zoom range, this lens can be transported easily and fast.
Other important features are:
- Servant removable drive
- Transmissions tv UHD
- Quality 4K
For more information and detailed descriptions of the product:
Canon CN 20x50