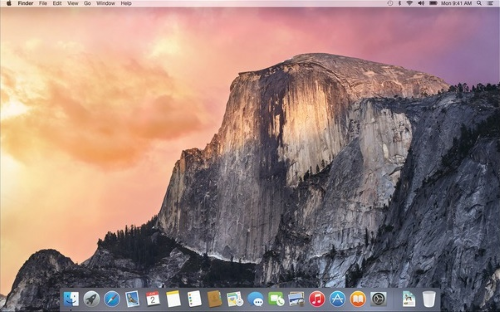 (Apple inc. image property)
- ITA -
Finalmente online la nuova versione del sistema operativo MacOsx, Yosemite.
C'è da dire prima di tutto che da quando Apple ha cambiato la sua politica riguardante gli aggiornamenti del suo software, molti utenti, dubbiosi nel cambiare o meno, hanno avuto una nuova opportunità per rifletterci seriamente. Il fatto che sia totalmente gratuito e installabile anche il macchine di vecchia generazione è una grossa rivoluzione!
La modalità d'uso è sicuramente quella classica di ogni sistema MacOs, facile, intuitiva, piena di applicazioni già pre-installate e pronte all'uso ed una portabilità straordinaria.
Tra le novità più importanti vi sono:
- Interfaccia ridisegnata con finestre in trasparenza, nuove barre degli strumenti, icone, pulsanti ecc.. ecc..
- Un modo tutto innovativo e particolare per integrare programmi, app, dispositivi mobili in un solo mondo! Anche Yosemite presenta la barra centro notifiche proprio come iOs, in cui sarà possibile con un click avere a disposizione tutti i nostri impegni e ciò che è più importante ogni giorno della settimana.
- Spotlight eseguibile al centro dello schermo con ricerca avanzata anche al di fuori del nostro hd, direttamente ricercando e consigliando ciò che è meglio per noi sulla rete.
Per eseguire l'aggiornamento è necessario prima verificare il nostro hardware a questo indirizzo:
https://www.apple.com/it/osx/how-to-upgrade/
e poi passare al download su App Store.
Buon lavoro!

- ENG -
Finally online the new version of the operating system MacOSX Yosemite.
That is to say first of all that since Apple has changed its policy on updates of its software, many users, doubters to change or not, have had a new opportunity to think about seriously. The fact that it is totally free and can also be installed on older machines is a big revolution!
The method of use is definitely the classic one of each system MacOS, easy, intuitive, full of apps already pre-installed and ready for use and portability extraordinary.
Among the most important are:
- Redesigned Interface with transparent windows, new toolbars, icons, buttons, etc. .. etc. ..
- A completely new and unique way to integrate programs, app, mobile devices in one world! Yosemite also has the bar just like iOS notifications center, which will be possible with a click to have all of our commitments and what is more important every day of the week.
- Spotlight executable at the center of the screen with advanced search, even outside of our hd, directly researching and recommending what is best for us on the network.
To upgrade, you must first verify our hardware at this address:
https://www.apple.com/it/osx/how-to-upgrade/
and then proceed to download in the App Store.
Good job!