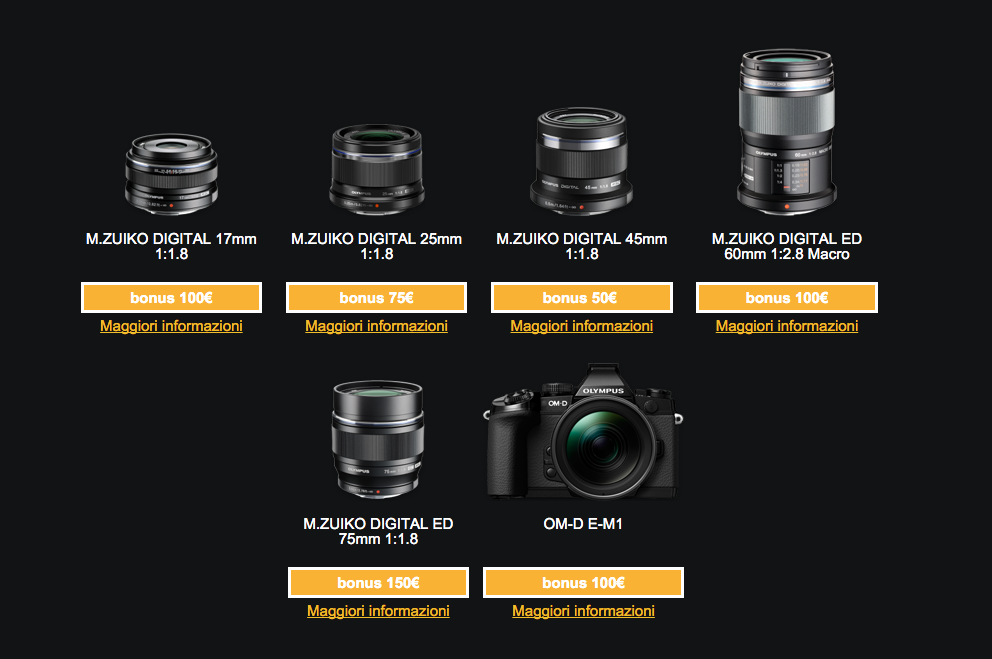 Olympus cameras images property
- ITA -
Olympus annuncia la nuova season promo 2015.
E' il momento di rinnovare il vostro corredo? Acquistare l'obiettivo che avete sempre desiderato? Se la risposta è si, allora questa è l'occasione giusta!
Olympus mette in campo nuovi sconti e rimborsi su tutti gli obiettivi Zuiko proposti in figura e sulla splendida OM-D E-M1.
E' sufficiente munirsi di prova d'acquisto e inviare il modulo prima del 29 febbraio 2016.
Qui le istruzioni e le informazioni su tutte le promozioni in vigore!
Buona fortuna e buona fotografia!
- ENG -
Olympus announces the new season promo 2015.
It ''s time to renew your kit? Buy the goal that you have always wanted? If the answer is yes, then this is your chance!
Olympus fielding new discounts and rebates on all lenses Zuiko proposed in the figure and the beautiful OM-D E-M1.
And 'sufficient to obtain proof of purchase and submit the form before February 29, 2016.
Here the instructions and information on all promotions in force!
Olympus season promo
Good luck and good photography!