- ITA -
Questa reflex digitale targata Canon, ha fatto la sua apparizione nel 2011, andando di fatto a sostituire il modello precedente e cioè la EOS 550d .
Le sue caratteristiche non sono molto differenti, ciò che la contraddistingue in maniera univoca dalle sue antenate è la dotazione di uno schermo LCD orientabile ed un controllo flash wireless integrato.
Certo, non una rivoluzione, forse un piccolo aggiornamento della già prestigiosa eos 550d, la quale ha avuto un grosso successo, difficile da battere con così pochi cambiamenti.
Una cosa molto divertente di questa fotocamera è la possibilità all'interno del software di ritagliare o modificare l'immagine scattata direttamente da schermo LCD. Un piccolo laboratorio di post produzione alla portata di mano per le incombenze o per tutte quelle volte che siamo impossibilitati ad usare un computer con un programma specifico.
Le caratteristiche fondamentali di questa reflex sono:
- Sensore CMOS a 18 Mpx APS-C con fattore di moltiplicazione 1,6 x anzichè 1,5 x come in molti casi targati non Canon però!
- Sensibilità ISO da 100 a 6.400 espandibile fino a 12.800 .
- Modalità di ripresa video full HD con possibilità di utilizzare la modalità Snap Shot. Tale opzione permette di girare una serie di piccole riprese da 2 o 4 sec per poi unirle fino a formare un'unico video il più possibile simile ad uno professionale.
- Il corpo macchina in plastica non è certo equivalente ad una semi pro o superiore, si difende, però, piuttosto bene grazie alla sua grande compattezza.
- Processore DIGIC-4 a 14 bit.
- Autofocus a 9 punti con sistema iFCL a 63 zone.
- Schermo LCD regolabile da 3" a 1.040.000 punti.
- Possibilità di controllo flash esterno TTL wireless senza l'ausilio di altri accessori.
- Prezzo: circa 550 euro solo corpo.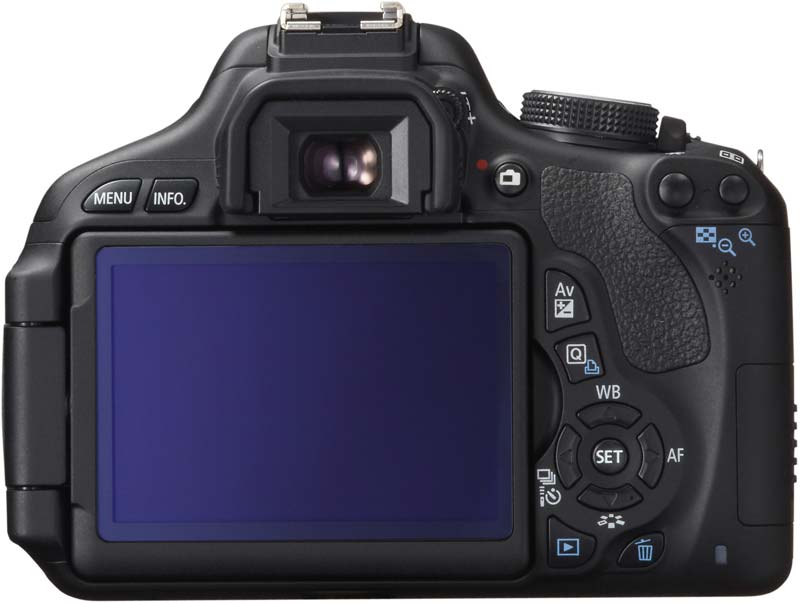 - ENG -
This Canon digital SLR camera license plate, he made ​​his first appearance in 2011, in fact going to replace the previous model ie the EOS 550d.
Its characteristics are not very different, what sets it apart from its predecessors in a unique way is the provision of an LCD screen swivel and a built-in wireless flash control.
Of course, not a revolution, maybe a little update of the already prestigious eos 550d, which had a great success, hard to beat with so few changes.
A very funny thing about this camera is the ability within the software to crop or modify the image taken directly from the LCD screen. A small laboratory of post production at hand for tasks or for all those times that we are unable to use a computer with a specific program.
The key features of this reflex are:
- 18-​​megapixel CMOS sensor APS-C with a multiplication factor of 1.6 x 1.5 x instead of as in many cases not targati Canon though!
- ISO sensitivity from 100 to 6400 expandable to 12,800.
- Shooting Mode Full HD video with the possibility of using the Snap Shot mode. This option allows you to shoot a series of small rounds of 2 or 4 seconds and join them together to form a single video as close as possible to a professional.
- The plastic body is not equivalent to a semi pro or higher, defends itself, however, quite well due to its high compactness.
- DIGIC-4 14-bit.
- 9-point autofocus system with 63-zone iFCL.
- LCD screen adjustable from 3 "to 1,040,000 points.
- Ability to control external flash TTL wireless without the help of other accessories.
- Price: € 550 body only.