- ITA -
Il modello S2 della Leica è stato presentato al Photokina nel 2009 e fu una vera è propria rivoluzione nel campo delle reflex digitali. Leica si proponeva di introdurre un nuovo sistema che sbaragliasse tutte le sue dirette avversarie in fatto di medio formato e full frame.
Certamente non parliamo di una macchina fotografica comune, questa S2 è indicata essenzialmente ad una clientela professionistica viste le caratteristiche ma in particolare i costi.
Il sensore all'interno del corpo macchina è un CCD Kodak a 37,5 Mpx da 30 x 45 mm . All'interno è alloggiato il nuovissimo processore a basso consumo "Maestro" progettato dalla Fujitsu che promette velocità di scatto altamente al di sopra di ogni sua diretta concorrente sul mercato.
Il corpo macchina è essenziale, robusto, impermeabile ad intemperie e a sbalzi di temperatura. Malgrado il sensore di grandi dimensioni , ha una grandezza inferiore alle ammiraglie di casa Canon, Nikon ecc ecc...
Altre caratteristiche importanti sono:
- Mirino pentaprisma con copertura del 96% ed ingrandimento 0,86x , risulta molto luminoso e nitido.
- Schermo da 3 pollici a 46.000 pollici .
- Alloggiamento per schede di tipo Compact flash oppure SD .
- Sensibilità ISO da 80 a 1250 .
- Peso 1,4 Kg
- Prezzo circa 18.500 euro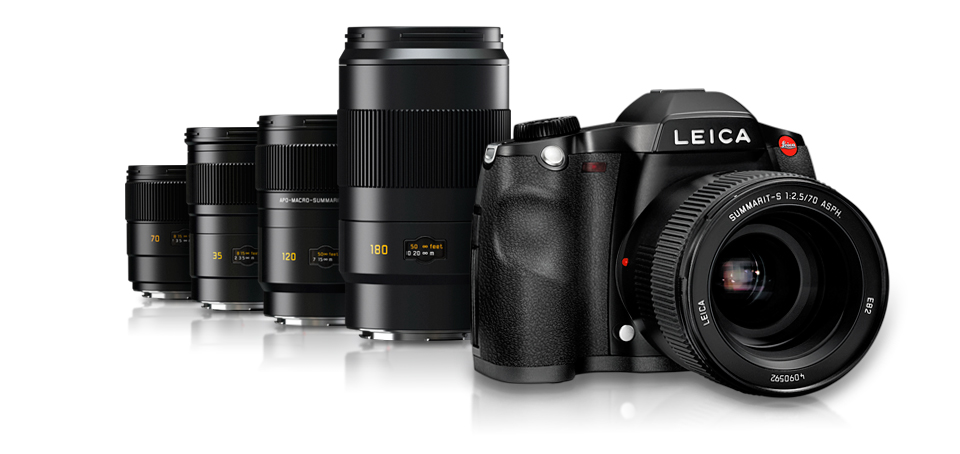 - ENG -
The model of the Leica S2 was presented at the Photokina in 2009 and it was a real revolution in the field of digital SLR cameras. Leica is proposing to introduce a new system that sbaragliasse all its direct rivals in terms of average size and full frame.
Certainly not talking about a camera town, this S2 is shown primarily to professional customers given the nature but in particular costs.


The sensor inside the machine body is a Kodak CCD to 37.5 Mpx from 30 x 45 mm.
It is housed inside the new low-power processor "Maestro" designed by Fujitsu that promises speed shooting highly above all its direct competitor in the market.


The machine body is essential, robust, impervious to weather and temperature changes.
Despite the large sensor, it has a magnitude less than the flagship home Canon, Nikon etc. etc ...


Other important features are:


- Pentaprism viewfinder with 96% coverage and 0,86x magnification, is very bright and sharp.


- Screen 3 inches to 46,000 inches.


- Card slot of type Compact flash or SD.


- ISO sensitivity from 80 to 1250.


- Weight 1.4 Kg


- Price about 18,500 €