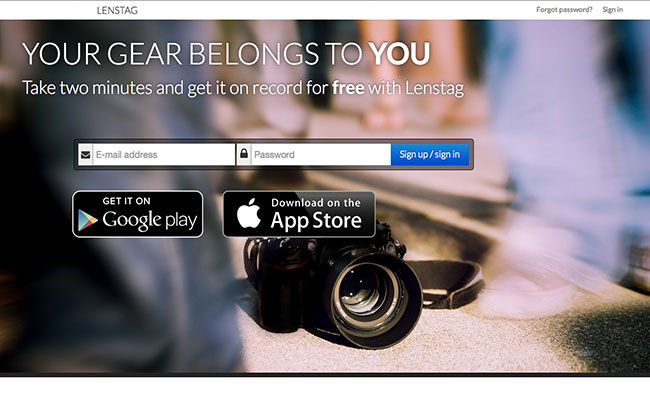 (Lenstag ™ © 2013-2017 Lenstag LLC. All Rights Reserved.)
- ITA -
Interessante metodo, oltre a quello ufficiale, per registrare la propria attrezzatura fotografica, preservandola in caso di furto.
I marchi fotografici mettono a disposizione dei propri utenti vari indirizzi e canali ufficiali ma in alternativa esiste anche Lenstag, un servizio totalmente gratuito, dove inserire obiettivi e corpi macchina con i relativi numeri seriali.
L'oggetto sarebbe riconducibile al leggittimo proprietario, procedendo, così, alla segnalazione di furto.
Ogni tentativo di ricettazione online tramite questi codici seriali sarebbe seriamente compromesso!
Certamente non una sicurezza assoluta ma perlomeno un'arma in più per potersi difendere.
La registrazione è molto semplice, dopo aver inserito e-mail e psw, si passa alla descrizione degli oggetti. Per dimostrare che l'obbiettivo, ad esempio , è di vostra proprietà sarà necessario postare una foto con il numero seriale ben in vista.
Lo staff verificherà i vostri dati e allegati, garantendo la veridicità della dicharazione e procedendo a posizionare l'attrezzatura nella vostra lista personale con accanto un segno di spunta che vorrà dire "verified".
Le pagine sono indicizzate da Google, permettendo così una facile ricerca, in caso di furto, proprio indicando il codice seriale.

- ENG -
Interesting method, in addition to the official one, to register your photographic equipment, protecting it in case of theft.
In addition to various web addresses that different brands photographic make available to its members, there is also Lenstag, a totally free service, for your goals and camera bodies with their serial numbers.
The object can be traced back to the rightful owner, proceeding as well, reporting theft.
Any attempt to stolen goods online using these serial codes would be seriously compromised!
Certainly not an absolute safety but at least one more weapon to defend himself.
Registration is very simple, after you enter your email and psw, we pass to the description of the objects. To prove that the objective, for example, your property will need to post a picture with the serial number clearly visible.
The staff will verify your details and attachments, ensuring the accuracy of the Declaration by and proceeding to place the equipment in your personal list with a check mark next to it will mean "verified".
The pages are indexed by Google, allowing easy searching, if stolen, just stating the serial number.
https://www.lenstag.com/