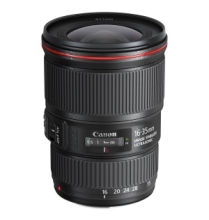 (Canon images property)
- ITA -
Canon presenta in modo ufficiale il suo nuovissimo EF 16-35mm f/4L IS USM.
La sigla "L" lo fa rientrare fra le ottiche professionali di questo prestigioso marchio, garantendo, così, elevate prestazioni sul campo.
Particolarmente adatto a fotografi paesaggisitici e naturalisti, questa lente garantisce una apertura massima ad f/4 su tutta la sua lunghezza focale.
Nuovi sensori giroscopici al suo interno modernizzano tutto il sistema di stabilizzazione ottica (IS), per una ripresa sempre più nitida e precisa, anche in fase di panning.
Il motore ultrasonico USM garantisce grande silenziosità in fase di messa a fuoco automatica anche se è possibile in ogni momento passare in modalità manuale.
Lo schema ottico si avvale di due due elementi Ultra-low Dispersion (UD), per la riduzione delle aberrazioni cromatiche, rivestimenti Super Spectra per la riduzione delle immagini fantasma, rivestimenti al fluoro per garantire l'isolamento dagli agenti atmosferici ed infine un'ottimo diaframma a 9 lamelle con apertura circolare.

- ENG -
Canon has officially its new EF 16 -35mm f/4L IS USM .
The letters " L " does come within the professional optics of this prestigious brand , thus guaranteeing high performance in the field.


Especially suitable for photographers and naturalists paesaggisitici , this lens offers a maximum aperture to f / 4 throughout its focal length.


New gyro sensors inside modernized around the optical stabilization system (IS) , a resumption increasingly sharp and precise , even when panning .


The ultrasonic USM motor guarantees extremely quiet during the auto focus even if it is possible at any time change to manual mode .


The optical scheme uses two two elements Ultra -low Dispersion (UD ) , for the reduction of the chromatic aberrations , Super Spectra coatings for the reduction of ghost images , coatings fluoride to ensure isolation from atmospheric agents and finally an excellent
9-blade diaphragm with a circular aperture .