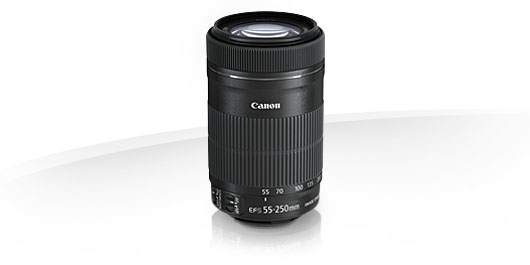 (Pictures proprety Canon)
- ITA -
Canon EF-S 55-250mm f/4-5,6 IS STM con il suo sistema di messa a fuoco silenzioso STM, vediamo le sue caratteristiche.
La casa nipponica presenta questo zoom tele come un'ottimo secondo obiettivo, dopo il 18-55mm in dotazione, per coprire tutte le lunghezze focali disponibili ed ottenere fotografie paesaggistiche e naturalistiche di ottimo impatto.
Il mio parere personale non è dello stesso avviso, in quanto sotto i 55mm è possibile avere obiettivi migliori e molto più performanti ma naturalmente, questo, dipende da cosa riteniamo più importante, come utenti. Le nostre necessità ed i nostri gusti variano da persona a persona.
L'obiettivo è naturalmente dotato di stabilizzatore d'immagine IS, indispensabile in particolar modo a focale massima, ciò permette di ottenere immagini molto più nitide.
Particolarità interessante è la totale ed automatica disattivazione di tale congegno durante fasi di scatto in panning. Questo per favorire l'inseguimento del soggetto senza alcuna correzione ed in maniera più lineare.
La nuova messa a fuoco silenziosa STM è ottima in particolar modo durante le riprese video, questo perchè non viene in alcun modo rilevata dal microfono incorporato al corpo macchina.
L'attacco è a baionetta per soli sensori APS-C, dunque come lunghezza focale equivalente avremo un 88-400mm.
La sua struttura interna è composta da 15 elementi in 12 gruppi con 7 lamelle di diaframma, un elemento UD (Ultra-low Dispersion) in vetro e rvestimenti Super Spectra.
Apertura massima F/4 - 5.6.
Apertura minima F/22 - 32.
Diametro filtro 58 mm.
Dimensioni 70 x 111,2 mm.
Peso 375 g.
- ENG -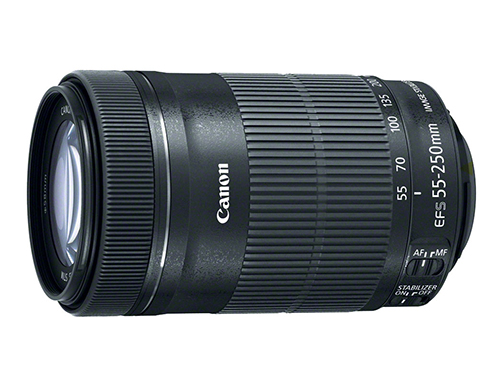 (Pictures proprety Canon)
Canon EF-S 55-250mm f/4-5, 6 IS STM system with its focus silent STM, we see its features.
For Canon this telephoto zoom is like an excellent second goal after 18-55mm Adaptor to cover all focal lengths and obtain photographs of landscapes and nature great impact.
My personal opinion is not of the same opinion, as under 55mm you can have goals better and much more efficient but of course, this depends on what we believe is most important, as users. Our needs and our tastes vary from person to person.
The aim is naturally equipped with an Image Stabilizer IS, which is essential especially at maximum focal length, this allows to obtain much sharper images.
Interesting feature is the complete and automatic deactivation of the device during phases of shooting panning. This is to facilitate the tracking of the subject without any correction, and in a more linear.
The new quiet autofocusing STM is excellent especially when shooting video, because this is not in any way measured by the built-in microphone to the camera body.
The attack bayonet for APS-C sensors only, therefore, as we will have a focal length equivalent of 88-400mm.
Its internal structure is composed of 15 elements in 12 groups with 7-blade aperture, an element UD (Ultra-low Dispersion) glass and rvestimenti Super Spectra.
Maximum aperture of F / 4 - 5.6.
Minimum Aperture F/22 - 32.
Filter diameter 58 mm.
Dimensions 70 x 111.2 mm.
Weight 375 g.