- ITA -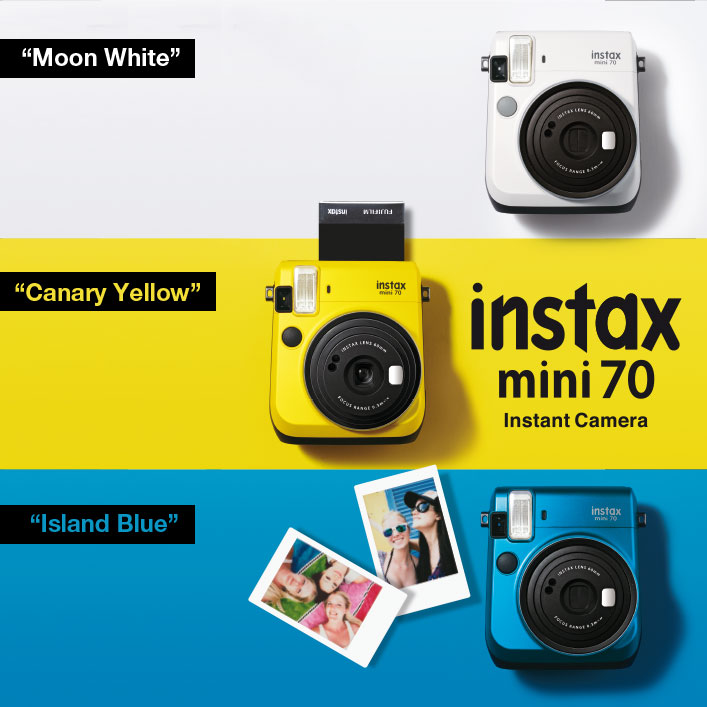 (Image property Fujifilm)
Fujifilm presenta la nuova Instax Mini 70.
Il trend del momento sembra proprio essere quello legato alla fotografia analogica. Molti i marchi impegnati come abbiamo visto. Fujifilm è senz'altro uno di questi, la sua lunga tradizione in fatto di pellicole e di fotocamere, ha permesso di continuare questo splendido modo di fotografare anche con moderni, seppur semplici, strumenti dal fascino indubbio.
Instax Mini 70 si unisce ad un già consolidato parco macchine con alcune novità fondamentali:
- Tre le colorazioni disponibili; "Canary Yellow", "Island Blue" e "Moon White".
- Funzione auto controllo di esposizione.
- Modalità selfie.
- Funzione autoscatto con treppiede di supporto.
- Modalità "macro" a distanza minima di 30 cm.
- Modalità paesaggio.
- Controllo dell'esposizione con regolazione dell'otturatore e del flash.
- In uscita dal 23 ottobre.
Per ulteriori info: Fujifilm Instax Italia

- ENG -
Fujifilm introduces the new Instax Mini 70.
The current trend seems to be that related to analog photography. Many brands committed as we have seen. Fujifilm is certainly one of these, its long tradition of films and cameras, has allowed us to continue this beautiful way of photographing with modern, although simple tools undoubted charm.
Instax Mini 70 joins an already consolidated fleet with some new fundamental:
- Three colors available; "Canary Yellow", "Blue Island" and "White Moon".
- Function auto exposure control.
- Mode selfie.
- Function self-timer with a tripod support.
- Mode "macro" at least 30 cm.
- Landscape mode.
- Exposure controls with adjustable shutter and flash.
- Outgoing from 23 October.
For more info:
Fujifilm Instax Italy