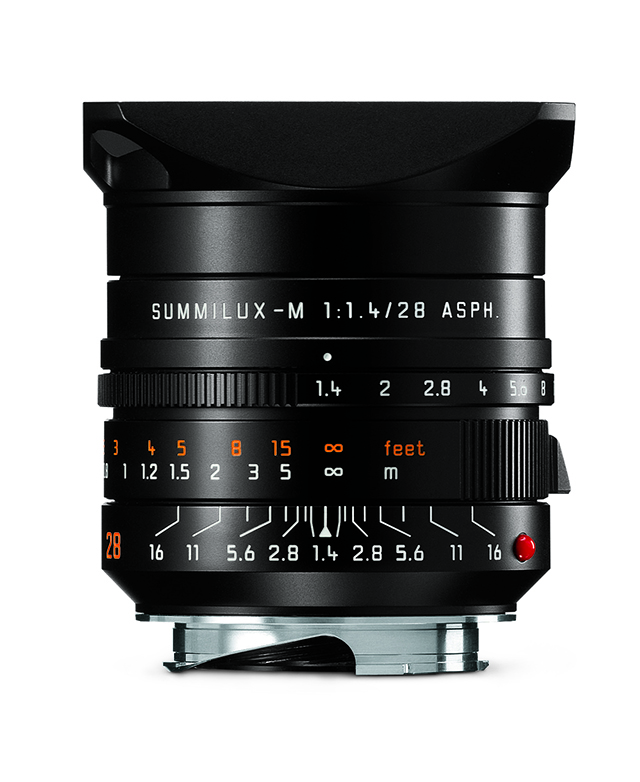 Leica images property
- ITA -
Il nuovissimo Summilux M 28mm f/1.4 ASPH, vediamo le caratteristiche.
Leica si spinge al limite con questo grandangolare luminosissimo, solo f/1.4, dalle lenti super contrastate e dal dettaglio elevato.
Il barilotto è composto, nel complesso, da dieci lenti in uno spazio davvero ristretto e compatto, come da tradizione, insieme ad un elemento mobile che assicura il cambiamento di posizione di una porzione di lenti, rispetto a quelle che si trovano più avanti, a seconda che il soggetto sia molto vicino o lontano.
Ecco le caratteristiche fondamentali di quest'obiettivo che pesa solo 440gr:
- Angolo di campo (diagonale, orizzontale, verticale): 75 ° / 65 ° / 46 ° (M8: 60 ° / 51 ° / 35 °)
- 10 lenti in 7 gruppi
- Apertura minima f/16
- Apertura massima f/1.4
- Attacco Leica baionetta
- Paraluce in dotazione
- Filtro E49
- Diametro 61mm
- Lunghezza 81mm
- Prezzo circa 5.950,00 dollari
Per ulteriori info: Summilux M 28mm f/1.4 ASPH


- ENG -
The new Summilux M 28mm f / 1.4 ASPH, we see the features.
Leica is pushed to the limit with this wide angle bright, only f / 1.4, the lens super high contrast and detail.
The barrel is composed, on the whole, ten lenses in a space really small and compact, as is traditional, together with a movable element which ensures the change in position of a portion of lens, compared to those that are located more forward, depending on whether the subject is very near or far.
Here are the key features of this objective that weighs only 440gr:
- Angle of view (diagonal, horizontal, vertical): 75 ° / 65 ° / 46 ° (M8: 60 ° / 51 ° / 35 °)
- 10 lenses in 7 groups
- Minimum aperture f / 16
- Maximum aperture f / 1.4
- Leica Bayonet Attack
- Lens hood included
- Filter E49
- Diameter 61mm
- Length 81mm
- Price about $ 5950.00
For more info: Summilux M 28mm f / 1.4 ASPH