- ITA -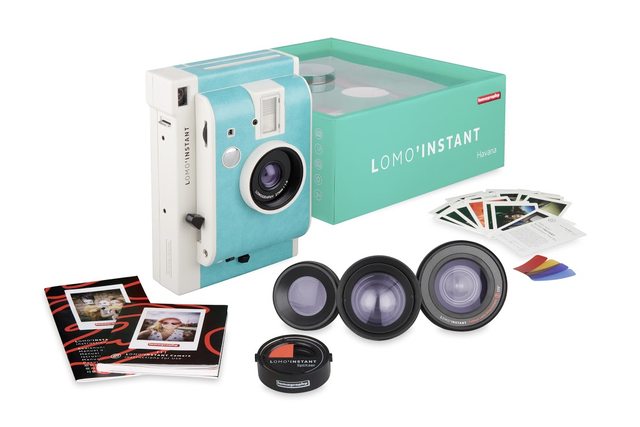 (Image property Lomography)
Lomo´Instant Havana Edition, per gli esperti e neofiti della fotografia, vediamo di cosa si tratta.
Questo è il nuovo comunicato stampa di lomography, il quale annuncia un nuovo modo di fotografare e di reinterpretare i propri scatti.
Questa fotocamera analogica permette lo scatto e lo sviluppo immediato con la possibilità di eseguire esposizioni multiple e creare effetti con filtri e pose prolungate, grazie all'impostazione Bulb.
Lomo´Instant Havana Edition ha le seguenti caratteristiche:
Formato pellicola: Fujifilm Instax Mini
Area di esposizione: 42mm x 64mm
Velocitá Shutter : 1/125s / Bulb
Aperture: f/8, f/11 f/16, f/22, f/32
Meccanismo di espulsione: Motorizzato
Esposizioni multiple: Sí
Flash incorporato GN: 9(m)
Flash automatico: Sí
Batterie: 6V (4x AAA batterie)
Attacco treppiede: Sí
Attacco per cavo di scatto a distanza: Sí
Qui il comunicato stampa ufficiale: Instant Havana Edition
- ENG -
Lomo'Instant Havana Edition, for experts and neophytes of photography, we see what it is.
This is the new release of lomography, which announces a new way of photographing and to reinterpret their shots.
This analog camera allows shooting and immediate development with the ability to run multiple exposures and create effects with filters and poses prolonged, thanks to the setting Bulb.
Lomo'Instant Havana Edition has the following features:
Film Format: Fujifilm Instax Mini
Display area: 42mm x 64mm
Shutter speed: 1 / 125s / Bulb
Aperture: f / 8, f / 11, f / 16, f / 22, f / 32
Ejection mechanism: Motorized
Multiple Exposures: Yes
Built-in Flash GN: 9 (m)
Auto flash: Yes
Battery: 6V (4x AAA batteries)
Tripod: Yes
Connection for cable remote release: Yes
Here the official press release: Instant Havana Edition
(Image property Lomography)