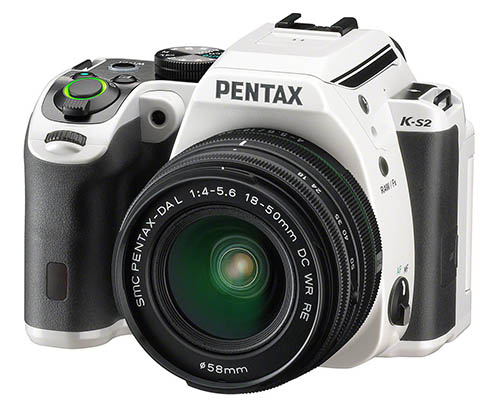 Pentax Ricoh images property
- ITA -
Pentax presenta la sua K-S2, super compatta e resistente a tutto!
Questa nuova reflex digitale sembra portare tre elementi distintivi con se e cioè robustezza, definizione e una forte propensione verso la connettività.
Le premesse sono molto interessanti; corpo macchina resistente ad acqua, polvere ed ogni tipo di intemperie con LCD orientabile per una visione della scena da ogni punto di vista.
Un sensore CMOS da 20 MP stabilizzato e senza filtro AA, garantisce immagini di alta qualità, grazie anche all'introduzione dell'ormai collaudato meccanismo Shake Reduction (SR).
Colori brillanti e scatti notevoli anche grazie al lavoro del nuovo processore PRIME M II, di ultima generazione.
Facciamo, dunque, una panoramica delle sue caratteristiche più importanti:
- Sensore Cmos 20,42 Mpx circa
- Iso in modalità automatica e manuale da 100 fino a 51200
- Filmati Full HD da 1920 x 1080 fino a 30 fps
- Pulizia del sensore Dust Removal II
- Attacco a baionetta K
- Sistema di messa a fuoco TTL ad 11 punti
- Monitor LCD da 921.000 punti
- Liveview
- Wifi con caricamento diretto su social network
- Otturatore elettronico
- Slots di memoria disponibili: SD, SDHC e SDXC
- Dimensioni 23,5 x 15,6 mm
- Peso circa 678g
Per ulteriori info: https://www.ricoh-imaging.it
- ENG -
Pentax unveils its K-S2, super compact and resistant to everything!
This new digital SLR seems to bring three distinctive elements with it and that is strength, definition and a strong propensity towards connectivity.


The premises are very interesting;
camera body resistant to water, dust and all kinds of weather with swivel LCD for viewing the scene from every angle.


A 20 MP CMOS sensor stabilized and no AA filter, ensures high quality images, thanks to the introduction of the now proven mechanism Shake Reduction (SR).


Brilliant colors and great shots thanks to the work of the new processor PRIME M II, the latest generation.


Let us, therefore, an overview of its most important features:


- CMOS Sensor approximately 20.42 Mpx


- Iso in automatic and manual modes from 100 to 51200


- Movies Full HD 1920 x 1080 up to 30 fps


- Sensor Cleaning Dust Removal II


- Bayonet K


- System Focusing TTL to 11 points


- LCD Monitors from 921,000 points


- Liveview


- Wifi with direct loading on social networks


- Electronic Shutter


- Slots available memory: SD, SDHC and SDXC


- Dimensions 23.5 x 15.6 mm


- Weight about 678G


For more info: https://www.ricoh-imaging.it