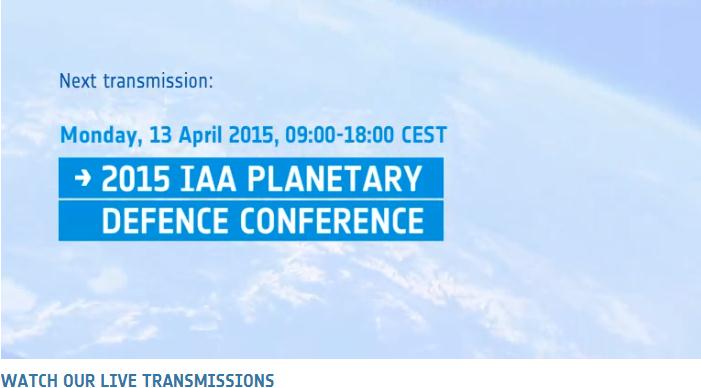 (Image property ESA)
- ITA -
E' in corso una riunione molto importante che parlerà del pericolo meteoriti e di come affrontarli!
2015 IAA PLANETARY DEFENCE CONFERENCE, questo è il nome esatto di questa conferenza internazionale a cui parteciperà l'ESA e molti altri enti di aereonautica internazionali.
L'evento avrà luogo a Frascati dal 13 al 17 Aprile 2015 e potrà essere seguito live all'indirizzo seguente:
https://www.esa.int/spaceinvideos/esalive
Si discuterà prevalentemente di come prevenire, analizzare e neutralizzare un eventuale minaccia da parte di asteroidi in rotta minacciosa verso la Terra.
Ogni partecipante sarà impegnato a simulare l'eventuale pericolo e proporre una difesa adeguata che possa scongiurare un impatto sul pianeta.
- ENG -
In progress a very important meeting that will discuss the danger of meteorites and how to deal with!
2015 IAA PLANETARY DEFENCE CONFERENCE, this is the exact name of this international conference with the participation of ESA and many other institutions of international aviation.
The event will be held in Frascati 13 to 17 April 2015, and can be followed live at:
https://www.esa.int/spaceinvideos/esalive
Will discuss mainly how to prevent, analyze and neutralize any threat from asteroids threatening route to Earth.
Each participant will be undertaken to simulate the possible danger and to propose an adequate defense that can prevent an impact on the planet.