News missione Rosetta sulla cometa 67P/C-G.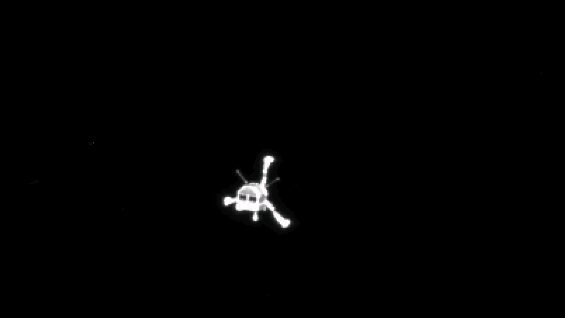 Image property ESA
- ITA -
La sonda Rosetta è sulla cometa 67P/C-G.
Dopo sette ore di discesa, un'intenso lavoro e grandi speranze da parte di tutti gli addetti dell'ESA, il lander "Philae" ha portato a compimento, il 12 novembre 2014, il suo primo grande passo verso una nuova frontiera, quella di cercare di conoscere i costituenti di questi oggetti, ancora molto oscuri.
Il segnale di conferma è stato trasmesso a Terra alle ore 16:03 GMT ed ora il robot sta penetrando la superficie della cometa per inviare dati contenenti la sua composizione.
Il sito di atterraggio è posto in cima all'oggetto ed è chiamato "Agilkia".
Rosetta accompagnerà la cometa fino al perielio, in agosto 2015, dopo questo punto abbandonerà la missione.
Molti i dati già inviati e molti quelli ancora da studiare. Ultima, una importante misura circa la molecola dell'azoto all'interno della cometa che ci rivelerà in quale epoca si sia formata.
Per ulteriori info e news: https://sci.esa.int/rosetta/

- ENG -
Rosetta is on the comet 67P / C-G.
After seven hours of descent, an intense work and great hopes on the part of all employees of the ESA, the lander "Philae" has completed, on 12 November 2014, its first major step towards a new frontier, that of try to know the constituents of these objects, still very obscure.
The confirmation signal has been transmitted to Earth at 16:03 GMT and now the robot is penetrating the surface of the comet to send data containing its composition.
The landing site is placed on top of the object and is called "Agilkia".
Rosetta will accompany the comet to perihelion, in August 2015, after this point will abandon the mission.
Many data already sent many and those yet to be studied. Last, an important measure around the molecule of nitrogen inside the comet that will reveal what age was formed.
For more info and news:
https://sci.esa.int/rosetta/