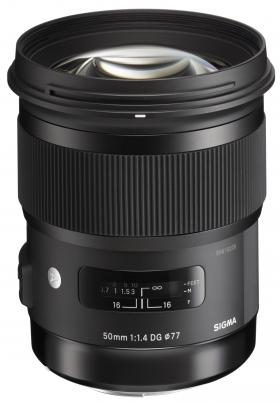 Sigma images property
- ITA -
Sigma presenta un nuovo splendido obiettivo dedicato a professionisti e non, parliamo del
50mm F1.4 EX DG HSM

.

Presentato al CES 2014, questa lente presenta notevoli vantaggi di ripresa, per qualità e nitidezza, sia per fotocamere con sensore Aps-C ma in particolar modo per fotocamere full frame.

Barilotto completamente ridisegnato e Hyper Sonic Motor di nuova generazione fanno si che manegevolezza e velocità dell'autofocus siano ai massimi livelli, fondamentali per una ripresa di alto livello.

La costruzione delle lenti è composta da 13 elementi in 8 gruppi con un'angolo di campo che raggiunge i 46,8°.

Le lamelle che compongono il diaframma sono 9 e permettono una apertura massima di f/1.4 fino ad una minima di f/16.

La minima distanza di messa a fuoco è di 40cm con dimensioni che raggiungono i 85,4 x 99,9 mm.

Naturalmente attacco predisposto per fotocamere Canon, Nikon e Sigma, prezzo ancora da definire.

- ENG -
Sigma has a splendid new objective dedicated to professionals and not, let's talk 50mm F1.4 EX DG HSM.
Introduced at CES 2014, this lens offers significant benefits of recovery, for quality and clarity, both for cameras with APS-C sensor but especially for full frame cameras.
Barrel and completely redesigned next-generation Hyper Sonic Motor make that handling and focus speed are at the highest levels, essential for a resumption of high level.
The construction of the lens is composed of 13 elements in 8 groups with a corner of the field which reaches 46.8 °.
The slats that make up the diaphragm are 9 and allow a maximum aperture of f/1.4 to f/16 down to a minimum.
The minimum focusing distance is 40cm in size of up to 85.4 x 99.9 mm.
Of course, prepared to attack Canon, Nikon and Sigma, price yet to be determined.