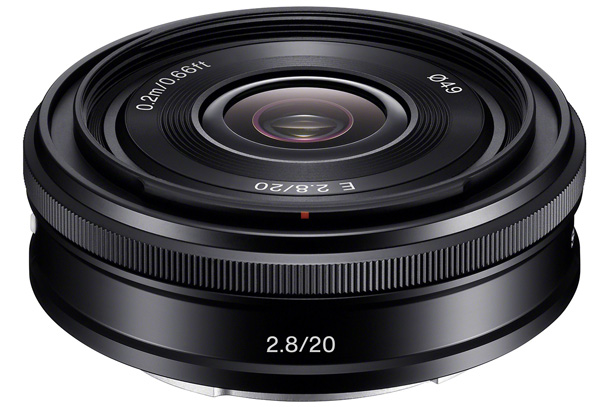 (Imm. proprietà Sony)
- ITA -
Parliamo del Sony SEL20F28, obiettivo con innesto E, performante e molto compatto.
Questo nuovo grandangolare da 20 mm f/2.8 conia portabilità, visto che è un pancake molto piccolo, con grande luminosità e nitidezza.
La sua progettazione permette di limitare al minimo aberrazioni e distorsioni donando una qualità finale dell'immagine notevole.
D'altro canto, a nostro avviso, alcune piccole pecche come la sola possibilità di messa a fuoco in modalità automatica e un'angolo di campo di solo 70°, forse sono aspetti da rivedere e migliorare!
Le finiture in metallo donano robustezza e fermezza nell'impugnatura!
La compatibilità è con i maggiori modelli Sony alpha in commercio.
Vediamo al dettaglio le sue caratteristiche:
- 20 mm f/2.8
- Focale da 30 mm quando montato su sensore APS-C
- 7 lamelle di apertura
- Diametro del filtro 49 mm
- Peso 69 g
- Paraluce ALC-SH113 in dotazione
- Prezzo consigliato 349.01 euro
Per ulteriori info: Sony SEL20F28
- ENG -
We talk about the Sony SEL20F28, E-mount lens, powerful and very compact.
This new wide-angle 20 mm f / 2.8 coins portability, since it is a very small pancake, with great brightness and sharpness.
Its design allows for minimal aberrations and distortions giving a final image quality remarkable.
On the other hand, in our opinion, some small flaws as the only chance to focus in automatic mode and an angle of field of only 70 °, perhaps are aspects to review and improve!
The metal trim give strength and firmness in the handle!
Compatibility is with more models Sony alpha commercially.
Let's look at the detail of its characteristics:
- 20 mm f / 2.8
- Focal 30mm when mounted on APS-C
- 7 aperture blades
- Filter diameter 49 mm
- Weight 69 g
- ALC-SH113 lens hood supplied
- Price about 349.01 euro
For more info:
Sony SEL20F28