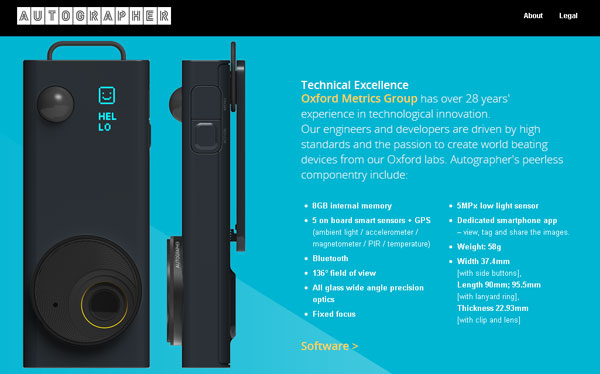 (Image property Autographer)
Bella l'iniziativa di un team di Oxford per aiutare i malati di alzheimer a ricordare i particolari della vita di ogni giorno.
Sono riusciti a progettare una fotocamera in grado di scattare fotografie in completa autonomia e in maniera totalmente automatica, basta metterla al collo affinchè faccia il suo dovere.
Naturalmente il suo impiego è molteplice, potrà essere sfruttata per riprendere momenti di ogni giorno, eventi sportivi o personali . Il tutto grazie ad un particolare algoritmo interno che farà scattare fotografie alla fotocamera in completa autonomia.
Una sorta di fotoreporter al tuo "collo" ogni giorno!
La camera Autographer, equipaggiata con un sensore CMOS da 5 Mpx e un obiettivo grandangolare, salverà i files in una memoria da 8 Gb.
Altre caratteristiche interessanti:
- 5 sensori intelligenti ed un gps
- Angolo di campo 136°
- Sensore di luce scarsa da 5 Mpx
- Condivisione immagini
- Peso 58 gr
- Dimensioni 37,4 mm di larghezza e 90 mm di lunghezza
- 22,93 mm di spessore
Per ulteriori info: https://www.autographer.com
- ENG -
Good initiative of a team of Oxford to help people with Alzheimer's to remember the details of everyday life.
Were able to design a camera that can take pictures in complete autonomy and fully automatically, just put it in the neck for you to do his duty.


Of course, its use is manifold, may be exploited to resume moments of each day, sporting events or personal.
All thanks to a particular internal algorithm that will take pictures with the camera in complete autonomy.


A sort of photojournalist to your "neck" every day!


The room Autographer, equipped with a 5 megapixel CMOS sensor and a wide angle lens, save the files in a memory 8 Gb.


Other interesting features:


- 5 smart sensors and a GPS


- Angle of 136 °


- Light sensor poor 5 megapixel


- Sharing images


- Weight 58 gr


- Size 37.4 mm width and 90 mm in length


- 22,93 mm thick


For more info: https://www.autographer.com