- ITA -
Fra i modelli della serie M, c'è sicuramente posto per la Leica M-E. Fotocamera che non si discosta di molto, come caratteristiche dalla M9 ma che è un'ottimo compromesso prima della costosissima Leica M.
Una delle caratteristiche più apprezzate è la possibilità di eseguire scatti in modo molto silenzioso. Ciò permette di non disturbare e non essere naturalmente rilevati durante una sessione di street photography, cogliendo attimi altrimenti difficili da immortalare.
La fotocamera seppur molto costosa e all'avanguardia della tecnologia si limita all'indispensabile per la fotografia. La filosofia è essenzialmente sempre la stessa in casa Leica, concentrarsi sullo scatto e non su tecnicismi o filtri inutili.
Ciò che caratterizza la M-E è essenzialmente una messa a fuoco manuale tramite telemetro e ghiera posta sull'obiettivo, una impostazione dei tempi (sia manuale che automatica) e l'apertura del diaframma completamente manuale.
Naturalmente il ruolo importante di un sensore a pieno formato 35mm da 18 Mpx non deve essere sottovalutato, insieme alla completa assenza di filtro passa basso che ne riduce dimensioni e la rende molto compatta.
Vediamo dunque le sue caratteristiche principali:
- KAF -18500 18 Mpx CCD Sensor
- Sensibilità ISO da 160 a 2500
- Innesto a baionetta serie M
- Monitor LCD da 2,5" TFT e display da 230.000 Pixels
- Velocità di scatto 1/4000s – 240s in modalità bulb
- Formato files dng e jpg
- Dimensioni immagine a 18Mpx 5212 x 3472 pixels
- Mirino ottico con ingrandimento 0,68x
- Supporto schede SD / SDHC
- Dimensioni 139 x 37 x 80 mm
- Peso 585 gr
- Costo circa 4.800,00 euro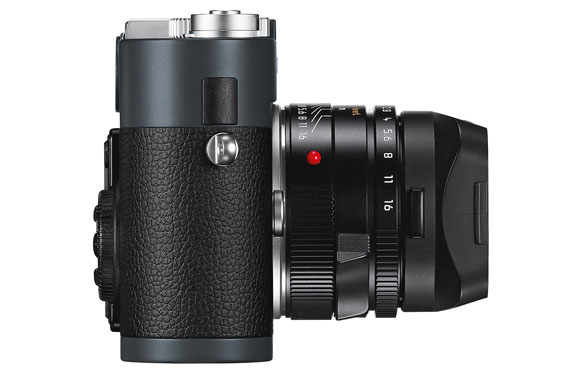 - ENG -
Among the models of M, there is definitely room for Leica ME. Camera that does not differ much, as features from the M9 but that is a very good compromise before the expensive Leica M
One of the most appreciated features is the ability to run shots in a very silent. This allows you to not disturb and do not of course be detected during a session of street photography, capturing moments that are difficult to capture.
The camera although very expensive, cutting-edge technology simply indispensable for photography. The philosophy is essentially always the same Leica at home, focus on the shoot rather than on technicalities or filters unnecessary.
What characterizes ME is essentially a manual focus via rangefinder and ring placed on the lens, a time setting (manual or automatic) and the aperture fully manual.
Of course, the important role of a full frame sensor 35mm from 18 Mpx should not be underestimated, together with the complete absence of low-pass filter that reduces size and makes it very compact.
Let's see its main features:
- KAF -18500 18 megapixel CCD Sensor
- ISO sensitivity from 160 to 2500
- Bayonet M series
- Monitor 2.5 "LCD TFT display with 230,000 pixels
- Shutter Speed ​​1/4000s - 240s in bulb mode
- Format dng and jpg files
- Image size 5212 x 3472 pixels in 18Mpx
- Optical viewfinder with 0.68x magnification
- Support SD / SDHC card
- Dimensions 139 x 37 x 80 mm
- Weight 585 gr
- Cost about € 4.800,00
(All images property Leica)