- ITA -
Obiettivo professionale serie Canon L questo EF 300mm f/4 IS USM. Non di recente commercializzazione, ha comunque ottime prestazioni per il fotografo evoluto.
Le specifiche tecniche sono le seguenti:
- 15 elementi in 11 gruppi
- 8 lamelle per l'apertura dl diaframma
- Apertura massima f/4
- Apertura minima f/32
- La distanza minima di messa a fuoco è di 1,5 m
- Stabilizzatore dell'immagine IS
- Motore USM
- E' possibile montare filtri da 55 mm
- Angolo di campo circa 6°
- Dimensioni 90 x 221 mm
- Peso 1,190g
Così come tutti gli obiettivi di questa serie, la qualità delle lenti si fa vedere e si tocca con mano sia in fase di scatto che in fase di post produzione.
I rivestimenti super spectra garantiscono colore e contrasto, questo perchè, così come dice la casa giapponese, quando la luce entra nell'obiettivo una piccola parte viene riflessa esternamente. Questo può provocare distorsioni come ad esempio effetti fantasma, bagliori non reali o lens flare.
I vari rivestimenti multistrato permettono di bloccare ogni lunghezza d'onda della luce indirizzandola in modo tale da ottenere un'immagine perfetta in ogni sua componente.
Il dato, a mio avviso, più preoccupante è il peso! 1,190g per un tele di questo tipo obbligano necessariamente il fotografo a munirsi di apposito anello e treppiede. A lungo andare, anche con l'uso di un'efficace stabilizzatore, la fatica si farebbe sentire causando micromosso negli scatti.
Gli aspetti migliori, al contrario, penso siano la pressochè totale assenza di distorsione del barilotto, una vignettatura poco evidente, aberrazioni cromatiche contenute, risoluzione ottima e un buon contrasto.
Naturalmente il prezzo non è dei più economici, data anche la sua non proprio recente costruzione, circa 1.300,00 euro.
Sicuramente un obiettivo consigliabile in particolar modo per il fotografo semi-pro e pro.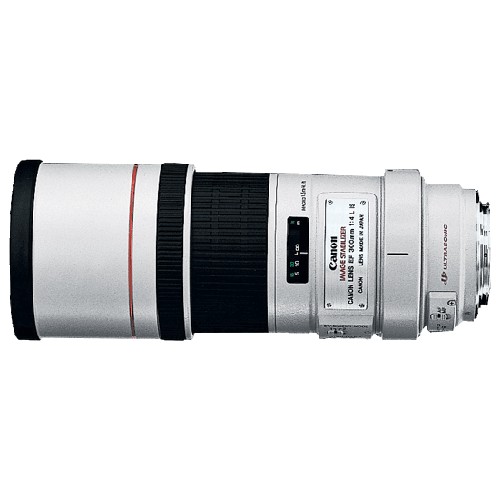 (Images proprety Canon)


- ENG -
Professional Lens Canon L series this EF 300mm f / 4 IS USM. Not recently marketing, it has excellent performance for the advanced photographer.
The technical specifications are as follows:
- 15 elements in 11 groups
- 8-blade diaphragm for opening dl
- Maximum aperture f / 4
- Minimum aperture f/32
- The minimum distance of focus is 1.5 m
-
IS
Image Stabilizer
- Engine USM
- And 'possible to mount 55mm filters
- Angle of about 6 °
- Bayonet

- Dimensions 90 x 221 mm

- Weight 1,190 g

As well as all the objectives of this series, the quality of the lenses you see and touch at first hand during shooting that in post production.

Super Spectra coatings provide color and contrast, this is because, as he said the Japanese, when the light enters the lens a small part is reflected externally. This can cause distortion effects such as glare or ghost not real.

The various multilayer coatings allow to block all wavelengths of light directing it in such a way as to obtain a perfect image in every component.

The figure, in my opinion, more worrying is the weight! 1,190 g for paintings of this kind necessarily require the photographer to get a proper ring and tripod. In the long run, even with the use of an effective stabilizer, the shake-causing fatigue would be felt in the shots.

The best aspects, on the contrary, I think are the almost total absence of barrel distortion, vignetting a little obvious, chromatic aberrations contained, excellent resolution and good contrast.

Of course the price is not the cheapest, given its not-so-recent construction, approximately € 1,300.00.

Definitely a desirable goal in particular for the pro and semi-pro photographer.
(Images proprety Canon)