- ITA -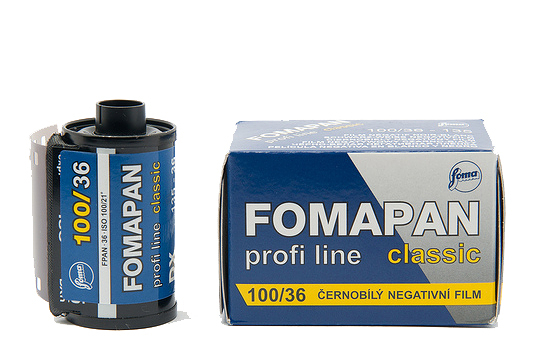 (Image from FOMA Boemia Ltd - www.lomography.it)
La pellicola pancromatica è un particolare tipo di film il quale è in grado di riprodurre i colori, in bianco e nero oltre ad una infinità di toni di grigio.
Il vantaggio di utilizzare tali pellicole è essenzialmente quello di ottenere una resa dei colori molto più realistica e fedele alla realtà.
Ad esempio se vogliamo ritrarre un volto al sole avremo che i rossi appariranno con toni medi, i gialli saranno molto chiari mentre i blu molto scuri.
Dunque una riproduzione molto più gradevole, in particolar modo in situazioni dove la luce è quella artificiale!
Infatti, le emulsioni pancromatiche con sensibilità verso il rosso, aiutano il fotografo a scattare immagini perfette ove tale spettro sia più evidente! Proprio come in questo caso!
Generalmente, però, questo tipo di materiali sono sensibili a tutte le lunghezze d'onda dello spettro visibile e sono composte essenzialmente da bromuro d'argento, sostanze per l'appunto dette "cromatizzatori"

- ENG -
The panchromatic film is a particular type of film which is able to reproduce the colors, black and white as well as a multitude of shades of gray.

The advantage of using such films is essentially to obtain a yield of colors much more realistic and true to reality.

For example if we want to portray a face to the sun that will appear red with medium tones, yellows will be very clear while the very dark blue.

Therefore, a reproduction much more pleasant, particularly in situations where the light is artificial!

In fact, emulsions with panchromatic sensitivity towards the red, help the photographer to take perfect pictures where that spectrum is more obvious! Just as in this case!

Generally, however, this type of materials are sensitive to all wavelengths of the visible spectrum and are composed essentially of silver bromide, substances precisely called "cromatizzatori"